Club Clé France: Franklins Removals
We are proud to work in partnership with Franklins Removals - European Removals and Storage, a family run business since the Company's formation in 1985.
Franklins Removals Ltd are a well known and established removals company, a family-run UK removal company that prides itself on its efficient and personal service. They make every effort to ensure that your experience with them is as easy and straightforward as possible.
To and From France Removals
Moving to France or from France? Take a look at the great services that Franklins Removals has to offer. They have a wide range of services that will make your move to or from France simple and stress free.
No matter where you're moving to, moving home is one of the most stressful things you will do. Franklins are there to make moving home less stressful.
They specialise in helping people move homes across the UK, from the UK to France, and from France to the UK.
At Franklins Removals, a family-run business established in 1985, offer the complete moving experience for our customers. With over 35 years of experience in the industry, they have the full knowledge of what is required, and can carefully adhere to your every need.
UK Domestic Removal Company
They fully understand that it can be a very stressful time when moving, which is why they offer a full professional UK removals service which can be tailored to your exact requirements.
So... you have searched all the property for sale in France, or at least that is what it felt like! You have found your perfect French Property and Cle France have helped you through the buying process, all you need do now is figure out the best way to get you and your furniture to your new house in France! it's easy....
Clé France and Franklins
Every move is different and each customer needs an individual, tailored service. Whether you are moving locally, nationally or internationally, with careful planning any move can be completed to your utmost satisfaction.
You can rest assured that Franklins will do all they can to make your move as smooth as possible.
UK to France Removals
Moving from the UK to France doesn't need to be stressful. With the help of Franklins Removals, experts in UK to France removals, you can enjoy a seamless, efficient and stress-free removals service from the UK to France.
Whether you are relocating from the UK to France or have a holiday home in France and are wanting to move some furniture and possessions, whatever your removal requirements are from the UK to France, our team of friendly and professional removal specialists will carry out the job efficiently and in a reliable, cost-effective manner.
Quality packing materials for moving to France from the UK
Shipping personal goods from the UK to France can run the risk of items becoming damaged in transit. Here at Franklins we only use the best packing materials to wrap your goods, giving you peace of mind that your personal items will arrive in France like they were when they left the UK.
If you can't, or don't want to pack, we have a tailored packing service that can do all of this for you. You might not want to move all your things to your new home either. In this case we can store you things in our own secure storage facility in the West Midlands.
Our close-knit family-run team of removal specialists will provide you with a high-quality, reliable, professional and friendly UK to France removals service that involves the following three simple steps:
- We will provide you with a free quote to move your items from the UK to France
- We will collect your items and meticulously pack them
- We will move your possessions from the UK to France whatever day of the week works best for your individual needs.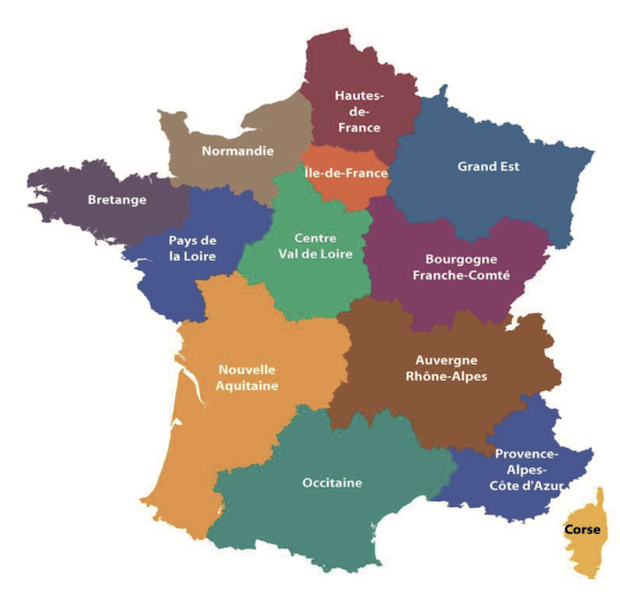 Franklins cover just about all of France including:
Angers
Bordeaux
Brest
Caen
Dijon
Grenoble
Le Havre
Le Mans
Lille
Limoges
Lyon
Marseille
Monaco
Nancy
Nantes
Orleans
Paris
Reims Rennes
Toulouse
Tours
France to UK Removals
For anyone looking to move goods from France to the UK, we can carry out the necessary removal work quickly and proficiently, whilst prioritising the safe arrival of your goods.
Our expert team of France to UK removal specialists offer a bespoke service, which includes the safe dismantling and packing of your items in France using only the best materials. Then, if you require, we can reassemble your items when they arrive safely in the UK
Are you looking for your personal belongings to be packaged and shipped from France to the UK with the care and attention you would give them? Well look no further here at Franklins Removals we are a family-run business based in the West Midlands who specialise in France to UK removals.
Full range of removal services
As well as furniture, clothing, carpets, furnishings and other items for the home, we are also experts in transport vehicles from France to the UK, including small tractors, mini-diggers, sit on mowers, trailers and more.
Dedicated load services or part load services
Whether you are looking for a full load of items to be transported back to the UK from France or just require one or two items to be shipped to the UK, our France to UK removals service includes both a dedicated load service and a part load service.
Our team of removal specialists can accept delivery directly into our storage facility for you, so your items can be delivered to your overseas home at a later date.
If you can't, or don't want to pack, we have a tailored packing service that can do all of this for you. You might not want to move all your things to your new home either. In this case we can store you things in our own secure storage facility in the West Midlands.
For almost 30 years we have been moving customers highly goods around the UK and France, including transporting items from France to the UK.
Packing
Moving home doesn't have to be as stressful as people suggest. Here at Franklins Removals, we offer comprehensive removal and packing services from the heart of the Midlands.
Our high-quality wrapping and packing services involve our team of removal professionals wrapping and packing your items in the highest quality of materials so they are protected and kept safe whilst being transported.
Tailored packing services for moving across the UK or to and from France
At Franklins Removals we recognise that no two removal or transportation jobs are the same whether you are moving across the UK, to the UK or you're moving to France. We provide a bespoke packing service that can be tailored to your specific requirements and unique situation.
You might need your precious breakables packed safely and securely and require our packing of breakables only service. Or you may require our full packing service and wrapping of particularly fragile goods or items of furniture.
All the furniture we move is blanket wrapped for transport, but we can also provide an export wrapping service on request.
Whatever your packing requirements, our team of packing and removals experts can provide you with a packing service you can rely on and trust, giving you peace of mind that your most valuable, precious items are in more than capable hands.
If you need to store your goods as you wait for them to be moved or you find there are delays in the moving process, we can pack your items safely and securely in our purpose-built containers and store them securely in our warehouse.
The cost of our packing service includes the use of our high-quality packing materials. We can also provide the loan of portable wardrobe cartons free of charge on the day to make things even easier.
Storage
As well as providing top quality removal services in the UK and across France, Franklins Removals offers quality storage solutions in our own secure storage facility in the West Midlands.
If you need to store any furniture and other items prior to it being transported to a new location, we can keep your items safe and secure in purpose-built wooden furniture containers located in our dry and clean warehouse in the West Midlands.
Whether you are wanting to store a single item or even a full household's worth of goods and more, we are happy to store as much or as little as you require.
Storage charged on a weekly basis
Rather than being tied to a lengthy storage contract, our storage services are charged on a weekly basis, with no minimum or maximum period. This provides you with the flexibility to have your items stored away in a safe and secure unit for a little or as long as you require.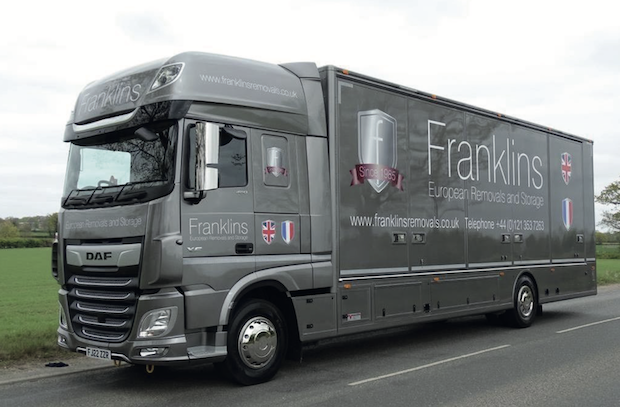 About Franklins Removals Vehicles
We have a wide range of vehicles in our fleet. They range from 20m3 vans to 60m3 lorries, which are helpful for different size loads and access issues that often occur.
We directly employ all our staff and do not outsource or use agency staff, so you can be assured that your goods are in safe hands.
Our office is run by a close, small-knit team that still includes family members, so you can be sure that customer service, attention to detail and the whole moving process will run as smoothly as possible.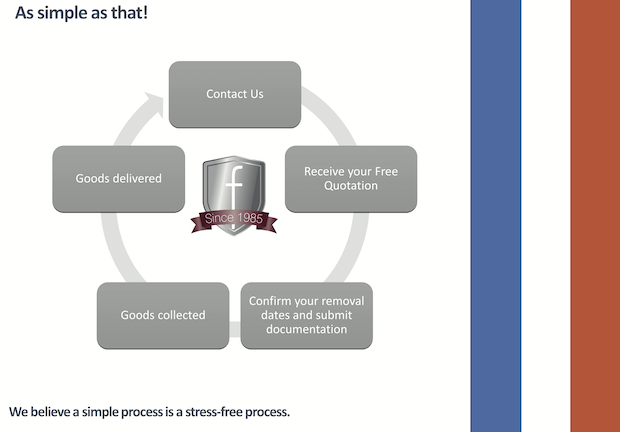 The information that you give and that we obtain through you using this website may be used by this Company and by our partner companies only for purposes in connection with your use of this website and for marketing activities of this Company and partner companies. By using this site you confirm your consent to this. If you do not want to receive any marketing information from this Company and/or our partner companies then please notify us.
For everything you need to know about French property for sale visit www.clefrance.co.uk