Gite accommodation for your viewing trip at "La Maison Fleurie"
La Maison Fleurie is a 2 bedroom self-catering gite close to Mayenne in the Pays-de-la-Loire, accommodating up to 6 adults.
Owners, Helen and Gary, who live next door, have many years' experience in the hospitality trade and believe that your visit should be as comfortable and enjoyable as possible. To this end, you can tailor your stay to suit your own requirements.
You can choose full or part board or self-catering. If you choose self catering, Helen & Gary are still happy to cook for you, just give us a little notice. They can also provide Continental or full English breakfast, cream teas and packed lunches. Bicycles are also available for hire.
Situated near to Colombieres-du-Plessis, 53120, Mayenne.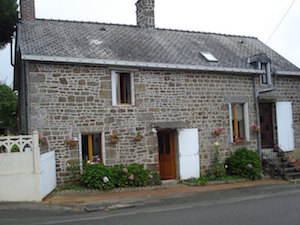 To make a booking simply scroll down to the Enquiry Form.
Activities in the area include, cycling, walking, swimming and fishing and there are leisure parks, natural lake beaches and a vélorail close by. Gorron and Ambrières les Vallées have some useful shops, supermarkets and restaurants.
In Gorron, there is a cinema which shows an English film once a month and there is a weekly market on Wednesdays. 
La Maison Fleurie is located only 20 minutes from the attractive regional town of Mayenne on the river Mayenne, where you can walk around the ancient chateau, its gardens and museum.
La Maison Fleurie is also less than 1.5 hours from Rennes, with Caen, St Malo and Mont St Michel, Laval, Le Mans being only around 2 hours away, giving you plenty of choice for excursions.
There are many beautiful chateaux in the area and we are also close to the borders of Basse Normandie, Brittany and L'Orne and Cognac, with many pretty towns and places to visit.
La Maison Fleurie is in the Pays-de-la-Loire on the borders of Lower Normandy, Brittany, Orne and Sarthe.  Here are some places we would recommend you visit:
What is there to do apart from our property viewings?
La Maison Fleurie is in the Pays-de-la-Loire on the borders of Lower Normandy, Brittany, Orne and Sarthe. Here are some places we would recommend you visit:
Under an Hour by Car -
Lassay-les-Chateaux - Lassay can boast not one but three chateaux. Definitely worth a visit and the town is very attractive too with some nice restaurants. (20 mins)
Mayenne - interesting and attractive regional town set in the valley of the river Mayenne with chateau, gardens and river trips. (20 mins.
Laval - nice city with medieval city centre and many lovely features. (50 mins)
Fougeres - this town is home to a wonderful chateau which takes a good day to visit. There is a lovely public garden by the church which gives you a fantastic view of the castle below. (45 mins)
Ambrières les Vallées - closest town of interest, on the river Varenne. There is a leisure park which includes swimming, kayacking, racket sports and many more activities. (10 mins)
La Haie Traversaine - there is a lake here where you can go sailing and windsurfing. Tel: (00 33) 2 42 04 00 68 (15 mins)
St Loup du Gast - this is such a pretty place and it has a vélorail too, which is great fun! (a vélorail is a bicycle-like contraption to seat 4 set on an old railway track which you pedal along!) (15 mins)
Domfront - a very attractive Medieval walled town. (40 mins)
Bagnoles de l'Orne - really attractive town with lovely walks and nice restaurants. There is also a velorail here, - this is a circuit of 8km on the former Bagnoles de l'Orne to La Ferte Mace line - you will see St Ortaire Priory and cross the magnificent Andaines Forest - very beautiful and quiet. (40 mins)
Sainte Suzanne - this is an amazing little walled town - so beautiful, you will want to stay there all day! (55 mins)
Mezangers - here,  there is the Etang de Gue de Selle which is a beautiful lake which has beaches where you can swim, go for walks and picnic in the peaceful surroundings. (40 mins)
La Ferté Macé - lovely town with a toy museum, beautiful gardens and much more. (45 mins
Under 2 Hours by Car:
Mont St Michel - this is probably one of the most popular tourist destinations in France. The ancient abbey set on a hill island off the Atlantic coast. (1hr 25)
St Malo - this is a beautiful ancient walled town on the Atlantic coast. You may have arrived here by ferry! (1hr 50)
Le Mans - famous for its motor racing but also has a very beautiful ancient Medieval centre to explore. (1hr 30)
Alençon - again a lovely city to explore - see leaflets. (1hr 15)
Rennes - another amazing city with an outstandingly beautiful and famous cathedral. (1hr 20)
Sable sur Sarthe - pretty town in Sarthe - just west of there is Solesmes where you can hear real monks singing real Gregorian Chant (1hr 30)
In addition to these, there are many beautiful little places, and open countryside - no need to travel far for these!
Apart from the sightseeing, this area is of course very much implicated in the two world wars and has much history to explore.
Notes on accommodation: 
The gite, to accommodate a maximum of 6, comprises two double bedrooms, one with twin beds and one with a double bed, plus a sofa bed (to sleep 2) within the open-plan main living kitchen/dining area with a bathroom (shower only) off to one side. There is a real log fire and heating throughout. A door from the main living area leads to a private garden with patio furniture and BBQ facilities. Quilts, pillows etc are provided but bed linen, towels etc are not provided with the basic gite package. The property should be left clean and tidy, as found, and any breakages/damage must be paid for. 
Make a Booking: 
To contact the owners to make a booking or to ask any questions simply complete the Enquiry form below:
The information that you give and that we obtain through you using this website may be used by this Company and by our partner companies only for purposes in connection with your use of this website and for marketing activities of this Company and partner companies. By using this site you confirm your consent to this. If you do not want to receive any marketing information from this Company and/or our partner companies then please notify us.
For everything you need to know about French property for sale visit www.clefrance.co.uk